Ripple - FOCUS Mango aroma
Ripple+ FOCUS combines the functional extracts of brain-boosting bacopa + fatigue fighting guarana and is topped off with a mouth-watering mango aroma for a delicious fruity taste. The tropical blend is designed to uplift your mood and transport your senses to sunnier places. 1,000 puff Zero nicotine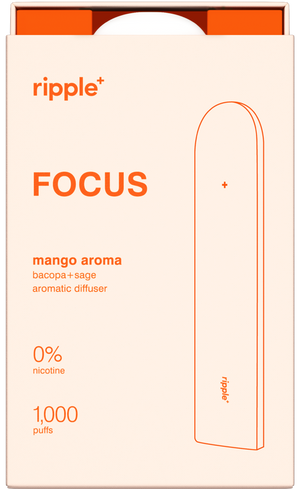 Ripple+ FOCUS combines the functional extracts of brain-boosting bacopa + fatigue fighting guarana and is topped off with a mouth-watering mango aroma for a delicious fruity taste. The tropical blend is designed to uplift your mood and transport your senses to sunnier places.

Free next day shipping on all UK orders over £35
Please note that due to the COVID-19 situation, delivery times may vary but we will do our best to get your order to you next day - Thanks for your patience!
If you have any questions or issues, drop us a message at info@wylde.one, or on Instagram @wyldecbd.